How to become an Airbnb host with healthy profit
Early decisions about your Airbnb entirely determine the extent of your success.
The best way to maximise profit is to get early decisions right. These are decisions that you make before you commit to things that are expensive (or worse, impossible) to change later.
This article will help you with such decisions.
I will guide you from the earliest and most critical point in your Airbnb journey: choosing the right property.
I will also discuss other key early decisions that will protect you from competition, and keep your costs downs. All of these will contribute to a healthy profit.
Early on, during my house hunting days, I made 4 choices that, unbeknown to me, would have an unbelievably huge impact on my Airbnb profit.
These were permanent, irreversible decisions.
There's a lot to learn from my accidental good and bad calls.
I hope you haven't locked in your property by the time you're reading this!
My boutique Airbnb is nearly fully booked every year and it ranks #1 for its location. This is what makes it possible: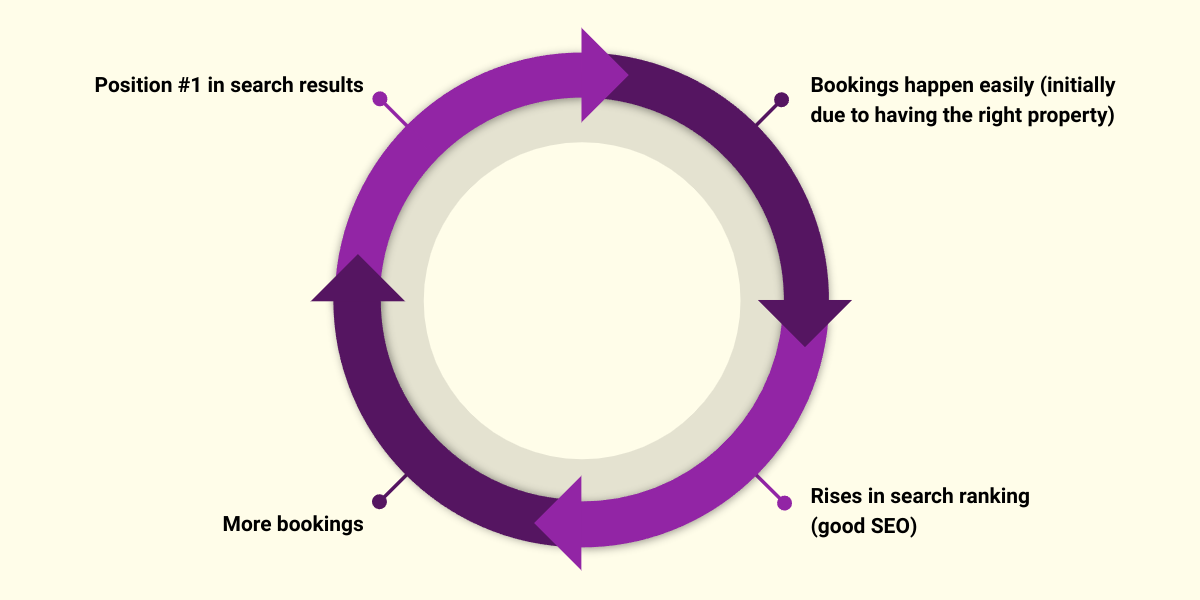 It's a virtuous cycle.
In the business world they call it the flywheel effect.
When it comes to Airbnb SEO, people confuse causality.
They think that Airbnb success starts with SEO and ends with lots of bookings.
It's actually the opposite.
It starts with you putting in the work to get bookings. It ends with a high position in search results.
In my article about Airbnb SEO, I emphasise the importance of bookings for search ranking.
But ultimately, in the purest sense, having the right property is the key to Airbnb success.
It's the thing that kick starts the whole flywheel.
Sure, I do a lot of work to get bookings for my Airbnb. But I'm not some kind of gravity defying wizard. Having the right property does most of the work.
The right property gets itself booked.
A four season location
In e-commerce, it's not uncommon for stores to make 90% of their sales from two events: Black Friday and Christmas. The other 360 days combined only contribute 10% to their annual revenue.
It doesn't take a genius to see that vacation rentals are similarly seasonal.
This didn't cross my inexperienced mind when I was house hunting.
I ended up buying in a "winter only" location. It's a cottage not far from the snow fields.
My stats after one year of operations caught me off guard. I didn't anticipate having high and low seasons.
I was even more surprised by the gulf between them.
In winter, weekday bookings were effortless. They just happened.
(For context we're talking about vacation rentals here, where peak demand falls on weekends.)
The low seasons, on the other hand, had barely any weekday bookings.
This was a huge deal because consistent weekday bookings are what makes really successful Airbnbs, well, really successful.
Any host who is committed enough can pull off consistent weekend bookings. That stuff is not hard.
Weekdays, though, are a different beast altogether.
Weekday bookings to Airbnb are what perfect gait and strides are to sprinters. They set apart the truly elite performers.
With only one high season out of four, my accommodation was unwanted 75% of the time.
My Airbnb was not "elite". My income was mediocre. So I worked to change this.
It turned out that my property's specific location (that particular house on that particular street) was surrounded by facilities sought after in spring and summer.
For example, I discovered that my Airbnb is within walking distance to a wedding venue. By targeting people who go to weddings, which are commonly held in fine weather, I reduced the low season nature of spring and summer.
Through several changes like this, I've been able to eliminate vacancies almost completely. Even weekdays.
Despite being located in a "winter only" region, my Airbnb's specific address is a four season location after all!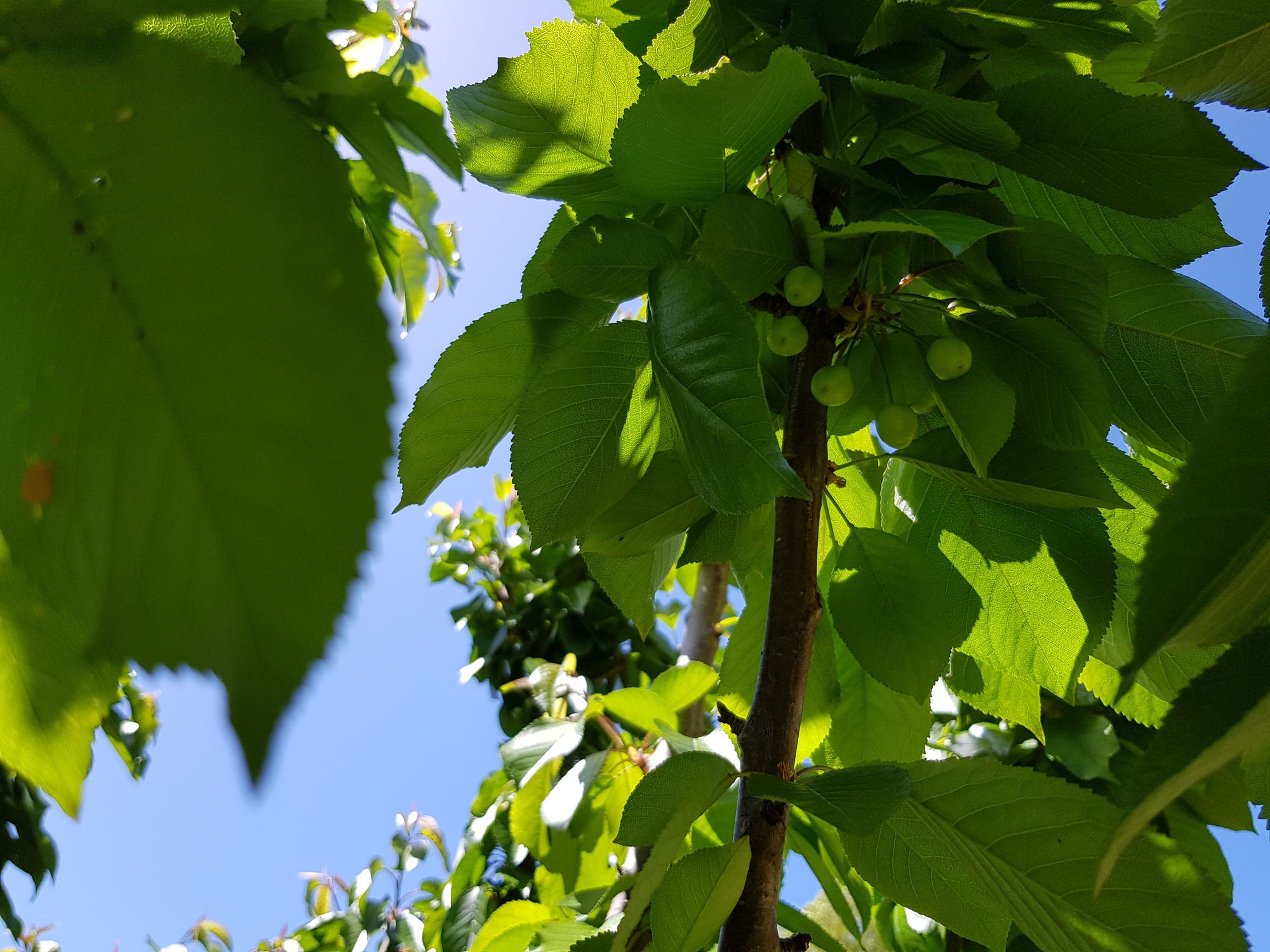 I must say this was sheer luck. I had no idea that the location was so good when I purchased it.
If you want to run truly great Airbnb, you want a property that can attract guests all year round.
You need to find your four season location.
Timing of purchase
The timing of my property purchase is another thing that was pure luck more than anything else.
I bought my cottage not knowing that the area was about to surge in price.
Even with that lucky timing, my mortgage interest is still a huge cost component. It is in fact the 2nd highest.
If I had bought the cottage at today's price, the interest would almost make running Airbnb not worthwhile.
I'm not here to teach you how to buy low. I'm not good at that.
The point of this section is to raise awareness that mortgage interest is one of the biggest cost components. For some hosts, it probably is the single biggest one. This is something that you need to be conscious of from the beginning.
Failing to account for this in your financial planning could cause serious issues down the track.
I will discuss my biggest cost (cleaning) below.
Competition
I used to think that my only competition was other Airbnbs. I didn't think too much about hotels.
Until one day I saw a forum post full of unhappy guests vowing to abandon Airbnb for hotels.
This made me realise that hotels are a real, viable alternative to my Airbnb. They can easily steal my lunch if I'm not smart.
Demographic mapping, which I discuss in this article, is a valuable tool for dealing with competition. (In fact, demographic mapping is an important early task that you should undertake regardless of competitors.)
Listing customer segments that exist for your location gives you clarity. It helps you identify segments with low competition.
This is how I avoided competing with hotels for the same guests. I picked customer segments that are not targeted by hotels in my area.
I evaded competition from corporate-run volume Airbnbs using the same technique. There is little overlap between my target audience and theirs.
An obvious observation is to try and pick a location that has no hotel altogether, but I'm not sure if this is even possible.
I must remind you that demographic mapping and competitor strategy are early activities that you should undertake before spending big on renovation (remodelling) and furniture purchases.
The last thing that you want to do is to spend a lot of money on a house design that puts you in direct competition with many other accommodation providers.
Property size
The conventional wisdom is to get a house that's bigger than we think we need. They say we will regret not having that extra space.
This may be true for our personal living, but no so much for B&Bs.
When it comes to a B&B, you want to avoid getting a large property for no reason other than "you may regret it".
You want to give it more thought than that. Getting a property that's just right will save you a lot of money.
I regret having a B&B that is too big. Cleaning the excess space alone costs me an additional $6000 every year. Not to mention heating and cooling.
It's not just about the financial costs.
More importantly, unnecessary costs weaken our ability to compete.
Especially against hotels. Remember, hotels have economies of scale. The savings from their efficient operation get passed on to their guests.
This is why I never stop working on keeping my costs down. For example, I hire and train my own cleaners instead of engaging an external management service.
It does mean that I'm not a 100% hands-off operator (I'm not full-time either, far from it). I think this is the way that it should be.
People shouldn't see Airbnb as an automated money making machine that involves no work. Our B&Bs don't exist in a vacuum. They are surrounded by competitors. We can't expect to run inefficiently and have our guests pay for our inefficiency.
Legal compliance
I decided early on that I wanted to do things above board. I only house hunted in areas where Airbnbs were legal.
I think this contributes to better reviews and overall happier guests. They feel totally at ease knowing that they're not engaged in anything shady that could put them in trouble or embarrassment.
For me personally, being compliant benefits me psychologically.
I'm not afraid to go all in on my Airbnb, knowing that no one can take it all away from me on legal grounds.
My Airbnb is successful because I don't subconsciously hold back from earnestly working on it.