Hosting Helper free chrome extension
My Airbnb pricing is very simple:
Base weekday rate
Slightly higher weekend rate
Increase the minimum stay for long weekend holidays
Increase the daily rate for a few high demand holidays (for me in Australia it's Easter, Christmas, and New Year)
Because of my simple set up, I don't need any of those third party Airbnb pricing software. It's all doable using Airbnb's native features.
However, I have always found managing custom trip lengths (minimum stays) cumbersome and error-prone, so I made a simple Chrome extension that makes it more convenient.
It's called Hosting Helper. (I'm not good with names.) It's available on the Chrome web store.
Problem 1: It's hard to remember which day/holiday it is
Airbnb presents minimum stays as textual date ranges. Without day-of-the-week and holiday information, it's hard for me to know if I've set up the date ranges correctly. What if I'm off by one day?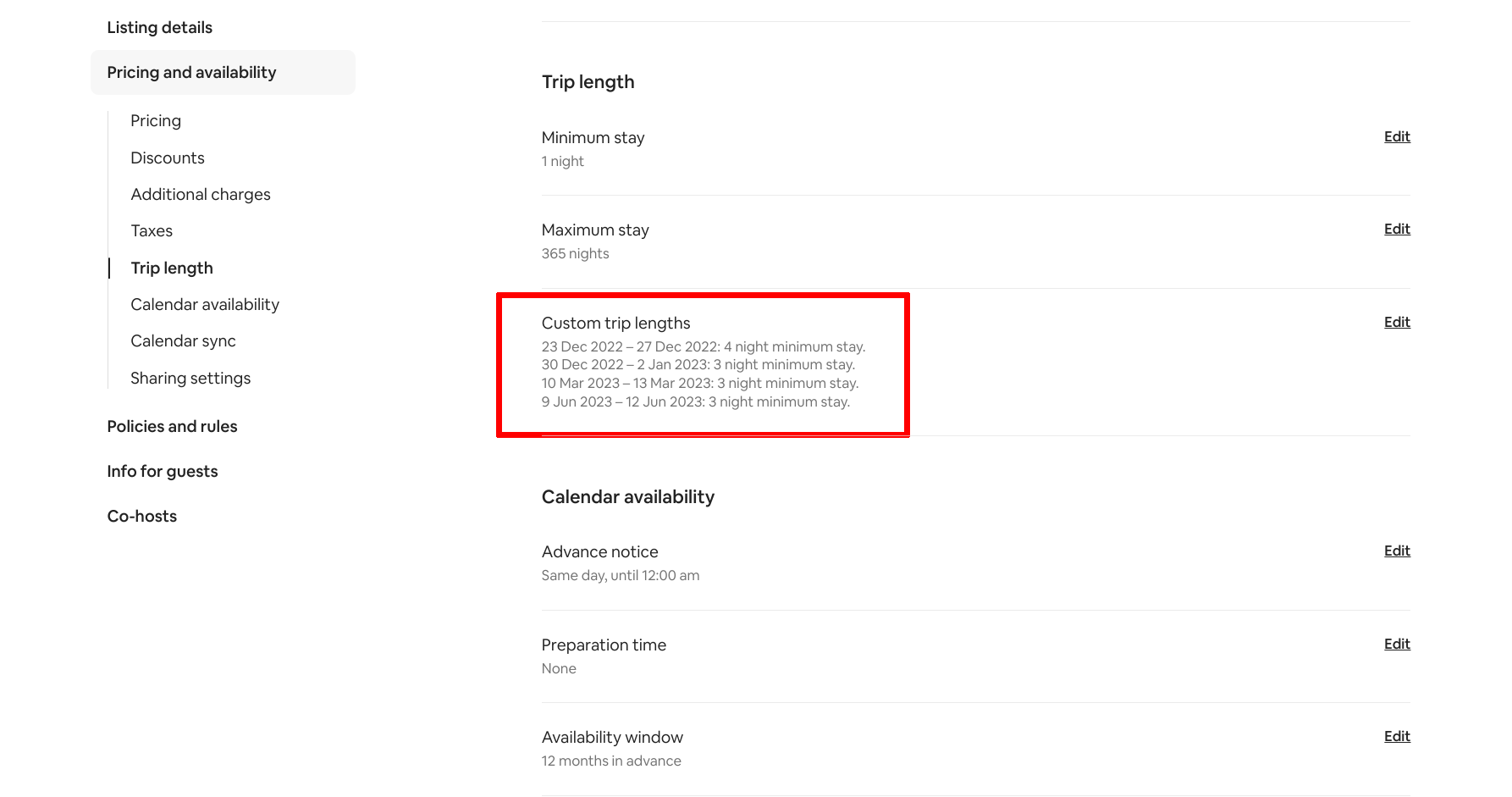 Solution:
The Hosting Helper extension adds a "mini calendar" for every minimum stay I've entered. This way I can easily spot a mistake.
Additionally, Hosting Helper also lets me flag a specific date with an icon, helping me remember holidays.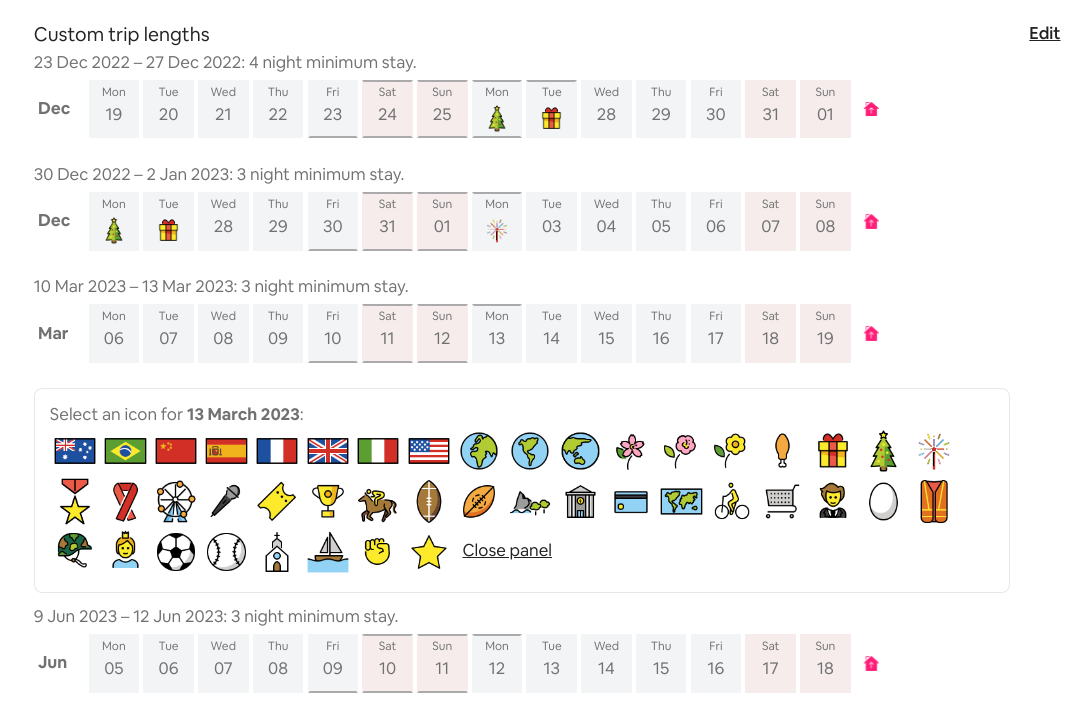 This is how it looks once I've flagged all the days that I want to remember: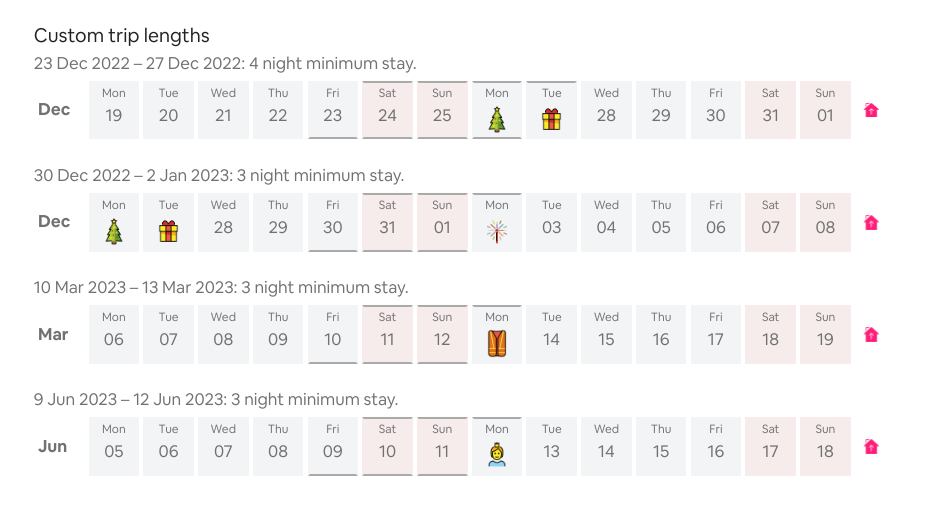 Problem 2: Minimum stays are not married up with pricing
For me minimum stays and pricing are sometimes two sides of the same coin. The fact that Airbnb displays minimum stays on one page, and pricing on another makes managing both difficult.
To solve this problem, Hosting Helper stores information from the Pricing and Availability page, and uses that to enrich the Airbnb hosting calendar.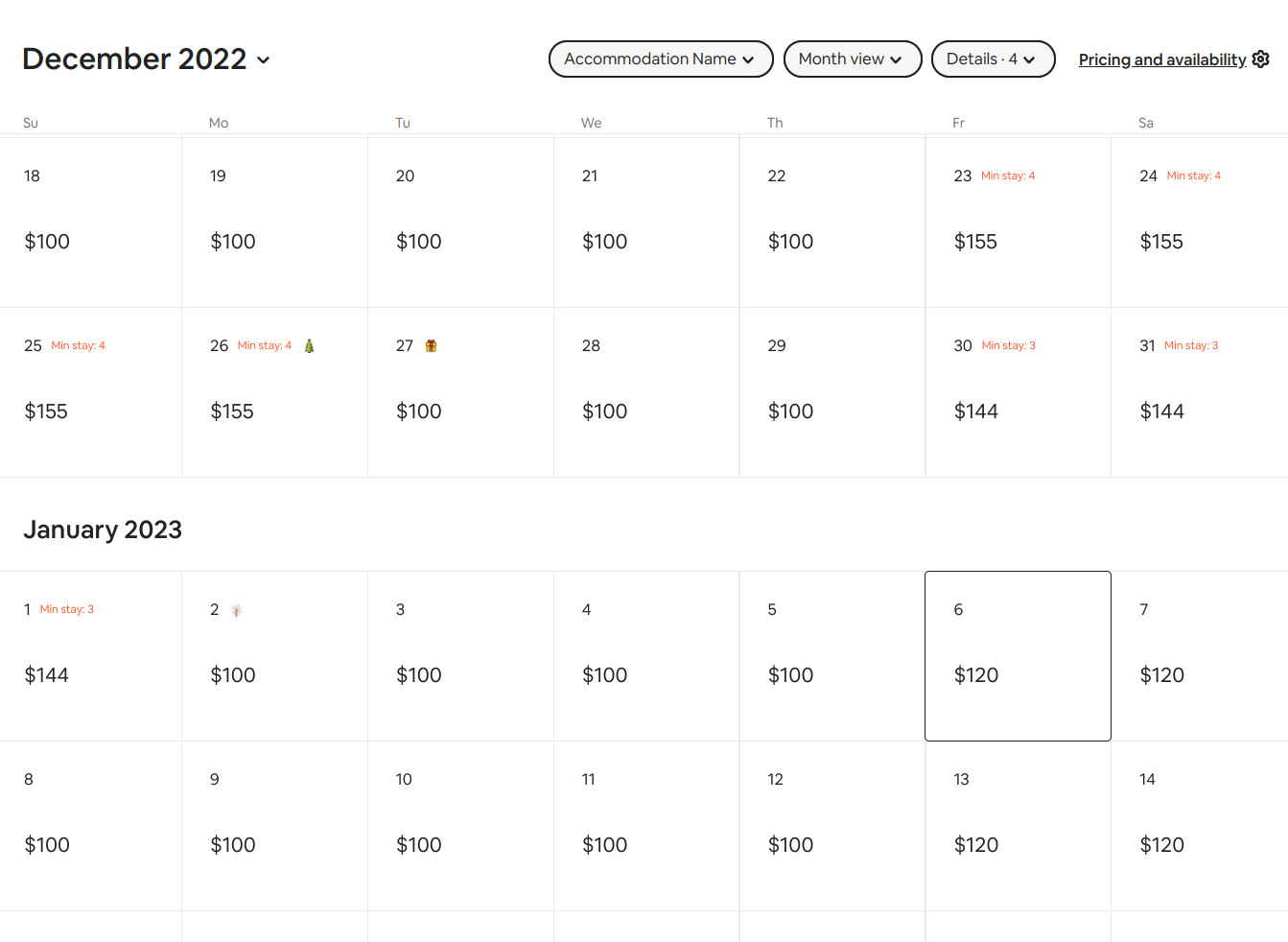 Seeing minimum stays, holidays, and pricing, all on a single calendar makes things easier for me.
Limitations
You need to go the the Pricing and Availability page first, before Hosting Helper can enrich your Airbnb calendar
I made this extension for my specific situation, which is a single listing in Australia. If you have multiple listings or a different date format than Australia, things may not work. Please let me know so I can fix them for you.
I've only included a small collection of icons. Please let me know if you want me to add more.
Privacy
Hosting Helper executes strictly within the confines of your browser.
It:
Is permitted to run on only Airbnb domains (airbnb.com, airbnb.com.au, etc). It's inactive for all other domains.
Only reads data in one place: the Pricing and Availability page. It scrapes trip length information in order to display "mini calendars" to you.
Stores scraped data in your browser's storage, in order to display it back to you in Airbnb's calendar.
Stores your icon selection in a similar fashion, namely your browser's local storage.
Does NOT send data anywhere. It doesn't "phone home". In fact, it doesn't make any network connection at all.
Feedback
To report bugs or give feedback, please get in touch through the contact page.
Credit
Icons designed by OpenMoji – the open-source emoji and icon project. License: CC BY-SA 4.0.
Warranty
Hosting Helper is provided "as is", without a warranty of any kind, express or implied, including but not limited to the warranties of merchantability, fitness for a particular purpose and non-infringement. In no event shall the authors be liable for any claim, damages or other liability arising from, out of or in connection with the software or the use or other dealings in the software.