How to review Airbnb guests (with templates and examples)
You're probably on this page because you need to review a guest, and you're looking for a template. You've just completed hosting your first guest. Congratulations!
Right here I will give you a few basic examples to get you started but I have 10 lengthier examples further down and one little secret at the end of the article, so please keep reading.
(Name) was a wonderful hassle free guest. Communication was easy and our place was well respected. Welcome back anytime!
Delightful guests. Would happily recommend (Names). Left cottage neat and tidy. Thanks.
(Names) are delightful. They treated the apartment as if it were their own. They are welcome any time.
(Names) were great guests. They left my place in good order. They were neat & tidy guests. I'd recommend them to any future hosts.
Writing thoughtful reviews is good for us (hosts)
Let's be honest. Some of us see review writing as an inconvenient chore.
After all, the guests have completed their stay and we have collected our fee. Why not just leave a short, generic review. Save time.
While this view is tempting and even understandable, we should resist it if we can.
This may sound strange but writing meaningful reviews of guests benefits us hosts collectively.
Protect others
Taking the time to write a thoughtful review helps protect our fellow hosts.
It may be the case that you turn on Instant Booking and you never need to scrutinise pre-booking inquiries.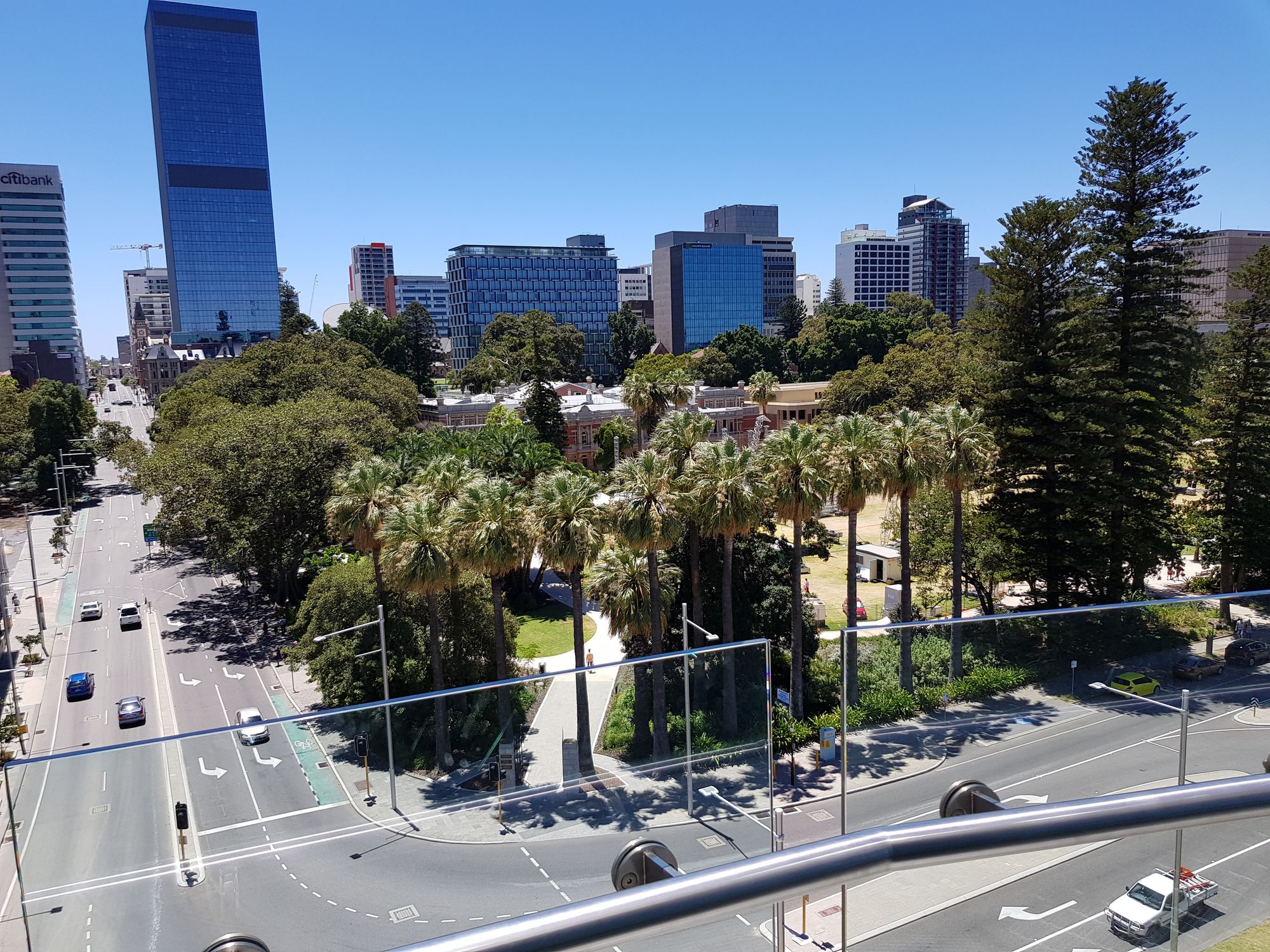 But don't forget that there are many hosts who do need to pre-screen guests, especially those who rent out a private room, as they essentially open up their own personal home to live with strangers.
Genuine reviews help these hosts avoid danger.
Reward good hosts

Wait. The title above should read 'Reward good guests', surely. Isn't this article about reviewing guests?
No, that's not a mistake.
That's right, writing good guest reviews will ultimately reward good hosts.
Multiple studies show that people like to conform to the majority. For a lot of us, our behaviour is influenced by other people.
In social psychology this phenomenon is called the Bandwagon Effect.
Your guest is more likely to leave you a well-written review if:
The guest has received similarly high-quality reviews from hosts in the past, or
Other recent guests of yours wrote their reviews of you in that manner
Essentially, your guest is more likely to leave you a thoughtful review if they see other people (both hosts and guests) do it.
(Mind you, this isn't based on a statistically airtight experiment on Airbnb reviews but rather my own observation. I have to say though, that the anecdotal evidence is quite compelling.)
If all hosts were to write a mindless one-liner review every time, that would become the norm for guests. And soon enough this would be all guests have to say about their hosts:
Perfect host.
Or worse:
Recommended.
Generic one-liner reviews would make all hosts look the same to potential guests. Great vs poor hosts would no longer be very distinguishable.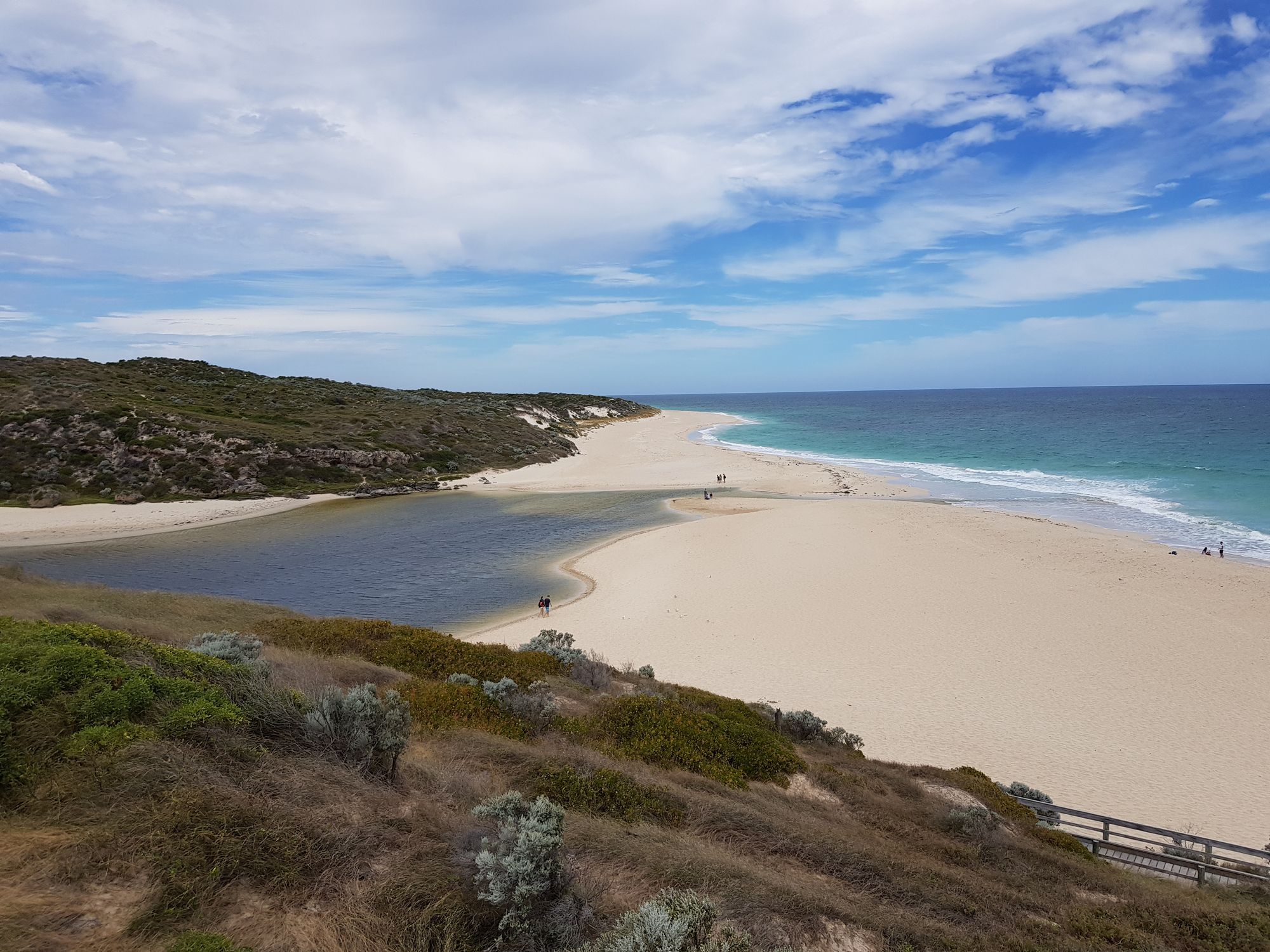 If you are a great host, it is in your interest that you write meaningful and substantial reviews! Wouldn't your listing stand out a lot more if all reviews were custom written thoughtfully like this:
What a gem this property is! The beachside location with nearby shops and a golf course made this the perfect house for a relaxing week away. The new pool was a welcome surprise, and was the cherry on top. Comfortably slept our group of 10 (5 couples), with enough lounging areas to escape for some peace and quiet. From check-in to check-out, the process was simple. The host's communication, recommendations and availability to be contacted during our stay was seamless. Would highly recommend this slice of paradise to any large group or family needing to unwind.
Anatomy of a review
If you're a new Airbnb host, writing your first review can be daunting. But don't worry, this section will make you an expert in no time.
There are only 9 different things that you can say about a guest and their stay. I call them review elements.
All (positive) reviews in the world are made up of these review elements. They all have the same anatomy.
1. How you felt as a host - Examples:
What a joy to host (Name).
It was nice to have (Name) staying with us.
It was an absolute delight to host (Name).
We thoroughly enjoyed their stay with us.
2. Describe the guest as a person - Examples:
I could not wish for a kinder guest than (Name).
Wonderful guests. Very friendly, easy going, clean, and thoughtful.
(Name) was a lovely guest! (He/She) was communicative, independent, quiet and respectful.
(Names) were the perfect guests in every way. They were very discreet, quiet and very respectful of the property.
(Names) were just lovely. Very warm and personable.
(Names) were truly the most perfect guests that you could ever welcome into your home.
3. Describe the guest's actions - There aren't so many examples of this in the wild. Here are a few:
(Names) were out and about.
(Name) followed all the house rules.
(Name) helped clear the rubbish before he left.
4. How the guest left your property - Examples:
Thank you for leaving my cottage so clean and tidy, it really helped.
(Name) left the apartment in impeccable condition.
(Name) took lovely care of our property.
(Name) left the space spotlessly clean.
Our home was left in perfect order.
5. Communication - Examples:
(Name) was easy to communicate with.
(Name) kept in touch with their arrival and departure times to make things as easy as possible.
(Name) was a pleasure to speak with.
Communication was excellent.
Replied very quickly.
(Name) maintained excellent communication with me.
6. Would you host them again - Examples:
I would welcome them back here again anytime.
(Name) is always welcome at my place.
I hope to have the pleasure of hosting (Name) again soon.
Would love to welcome them back one day.
We would happily have them come back and stay again.
7. Recommend the guest - Examples:
I highly recommend them as guests.
Happy to recommend to other hosts.
I can't recommend (Name) highly enough.
I would recommend them to other hosts without a second thought.
8. Wish the guest a good trip - Examples:
Hope you have a wonderful holiday.
Happy and safe onward journeys.
We hope you enjoyed your time in (Region/City).
9. Thank your guest - Examples:
Thank you very much for staying at our villa.
Thank you so much (Name), you're welcome back anytime.
Thank you for staying and best regards.
All the best host-written reviews out there are just different permutations of some of the above elements.
Personally I always include at least 4 of these review elements.
Don't forget the final ingredient: honesty. We need to tell it like it is, good or bad.
10 review examples
Below are 10 realistic review examples. Notice how the examples don't deviate much from the anatomy that I covered earlier.
I didn't meet (Name) in person. I wasn't home when I arrived and they were out and about a lot. However, (Name) and (her/his) companion did leave the apartment in a perfect condition and I can 100% recommend these guests to all hosts.
(Name) and (her/his) friends were fabulous guests. Communication was very easy and the house was left in a very clean and tidy condition in their departure. We would welcome (Name) back to our B&B anytime!
(Name) and (her/his) family are truly the most perfect guests that you could ever welcome into your home and they are deserving of much more than a 5 star rating on every level :) It was an absolute pleasure and honour to host these well seasoned Airbnb travellers!
(Name) is an adorable person and a delightful guest! (He/She) is sparkling with energy, very talkative, very easy to communicate with (from the very beginning and throughout her stay), was very easy-going, yet very respectful towards our apartment and us. We would have hosted (her/him) forever!
It was an absolute delight to host (Name) and (her/his) family members. (He/She) was very friendly and polite, replied very quickly and incredibly respectful of our home. We would highly recommend (her/him) to any prospective hosts and hope to have the pleasure of hosting (her/him) and (her/his) family at our house again soon.
(Name) and (Name) stayed in our apartment for almost two months and were wonderful guests. (Name) was easy to communicate with, and although I wasn't able to meet (her/him) in person, (he/she) was always lovely to deal with. They looked after the apartment well and left it clean and tidy. I'd highly recommend them as guests!
(Name) was a lovely guest who left the apartment all neat and tidy when they left, kept in touch with their arrival/departure times etc. to make things as easy as possible to accommodate them. We hope you had a great stay in (Region/City) and the apartment was comfortable. Welcome back any time.
(Name) is an awesome guest! (He/She) is very respectful of my place by keeping it clean and tidy. (He/She) is communicative and friendly. I would definitely have (her/him) as my guest again. I recommend (her/him) to the Airbnb community!
Hosting (Name) was a very pleasant and completely hassle-free hosting experience - if you come to (Region/City) again, please get in touch! The house rules were well observed, and I think (Name) was a great match for my apartment; they and their group treated the flat with respect and consideration, and maintained excellent communication with me throughout their trip. Highly recommended guest!
I could not wish for a kinder guest to host than (Name) - the communication was superb and (he/she) was looking after the apartment like (her/his) own. Highly recommend (her/him) to any host out there!
What about negative reviews?
Is it OK to leave a negative review? If the guest deserves it, absolutely. Like I mentioned earlier, genuine reviews (including negative ones) help protect hosts.
That said, I only leave a negative review when I am sure about what happened, who did it, and the intention.
Personally, if any of it is uncertain, I give the guest the benefit of the doubt.
Overwhelmingly, my guests travel to my B&B's region for a special reason. Whether to attend a wedding, celebrate an anniversary, or take a well-deserved break.
I don't want to ruin their special trip with an undeserved negative review.
For example, every once in a while a family with young kids would leave my place in a very messy state. Hand prints on surfaces. Food crumbs everywhere. Messy kitchen and dining area.
When I see that, it's hard not to let my emotions get the better of me. My instinct is to slam them with a horrible review.
But I never once follow through.
The thing is, I'm not sure that they are deliberately disrespectful.
It is plausible that their child throws a terrible tantrum on the check-out day, preventing the parents from tidying up before leaving.
A good policy when composing a negative review is to keep it direct, firm, informative (to help other hosts) but fair. Leave emotions out of it. The whole point of reviewing is to help other hosts "get to know" a guest better, not to be an outlet for personal attacks. Besides, sounding overly emotional makes your review less credible.
I try to stop myself from leaving unfair and one-sided reviews. Bad guests are rarely 100% bad without any redeeming qualities. They're bound to do a few things right.
I admire this host for their ability to leave a fair review and remain level headed:
(Name) and his friends are younger guests and all boys - so we're enjoying a good time over new year at the beach and we're well behaved for their youth! Great communication and lovely to deal with. Don't expect a completely spotless house after their stay though. Plan to get a cleaner in after a group of boys and you'll be fine. Everything else relating to their stay was perfect.
By interweaving negative and positive aspects of the guest, the host avoided a full blown attack on the guest. I think this is smart.
Personally, I avoid leaving a trail of angry reviews that make me appear irrational and easily offended, just in case prospective guests check my review history. Perhaps many don't check a host's review history, but I don't want to risk it. It's an easy risk to avoid, so why not.
Another tool that helps with diplomacy is the private note field that Airbnb provides when reviewing a guest. (The guest gets the same too, by the way.) This gives us an opportunity be very frank with the guest without embarrassing them in public.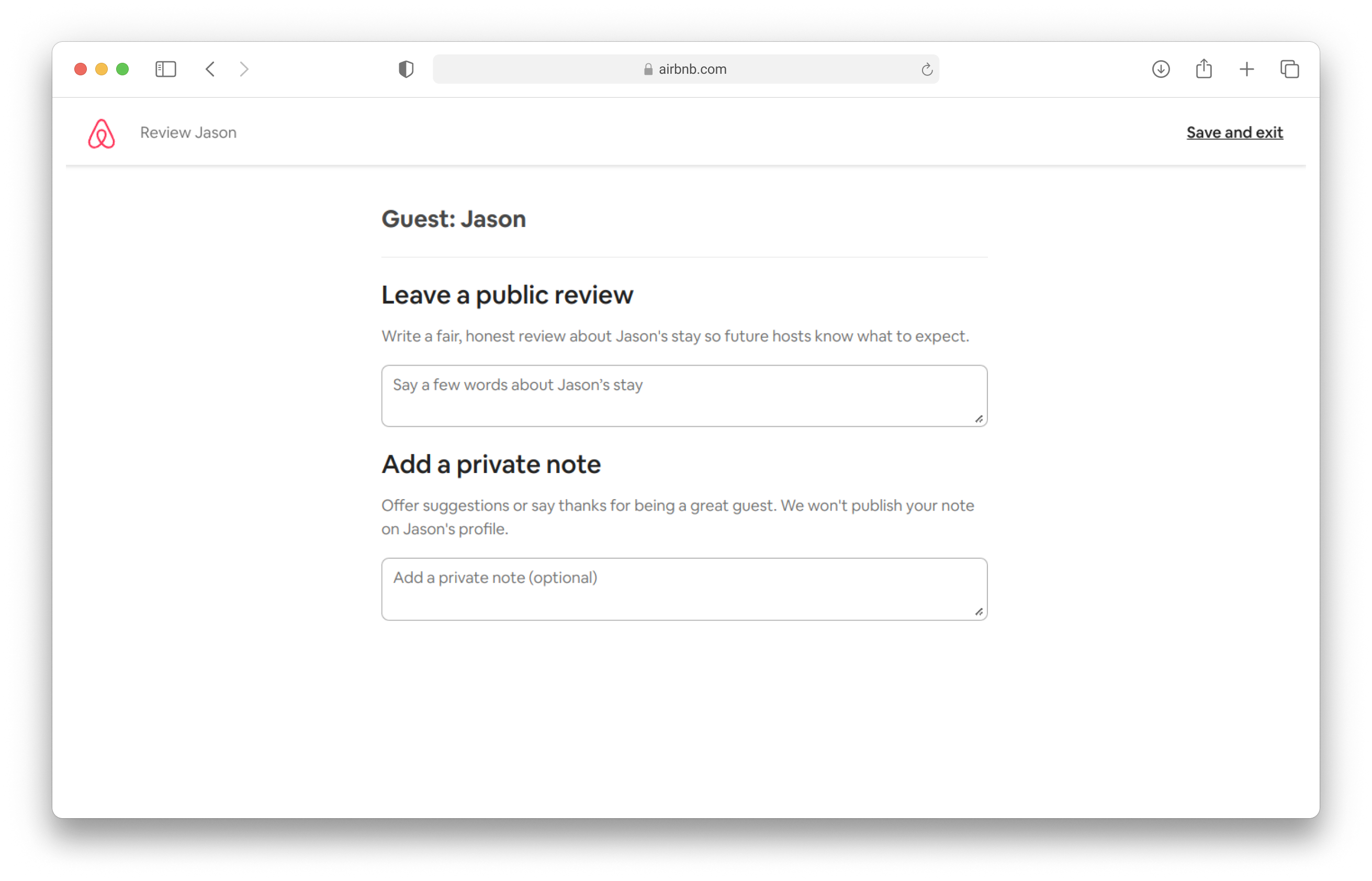 It's great to see that guests also extend hosts the same courtesy. I've had a number of guests who gave me feedback privately.
Reviews of hosts
We've discussed guest reviews a lot. Now I want to flip the discussion.
I'm sure you know that a host's reviews are key to their success. Let's deep dive into how reviews specifically deliver this outcome.
In my 'How to get more bookings' guide, I explain the concept of Airbnb funnel, which is essentially a series of stages that a prospective guest goes through before they end up making a booking.
Reviews play a vital role in moving prospective guests down the funnel. Without good reviews people have a higher tendency to drop off the funnel, ultimately leading to fewer bookings.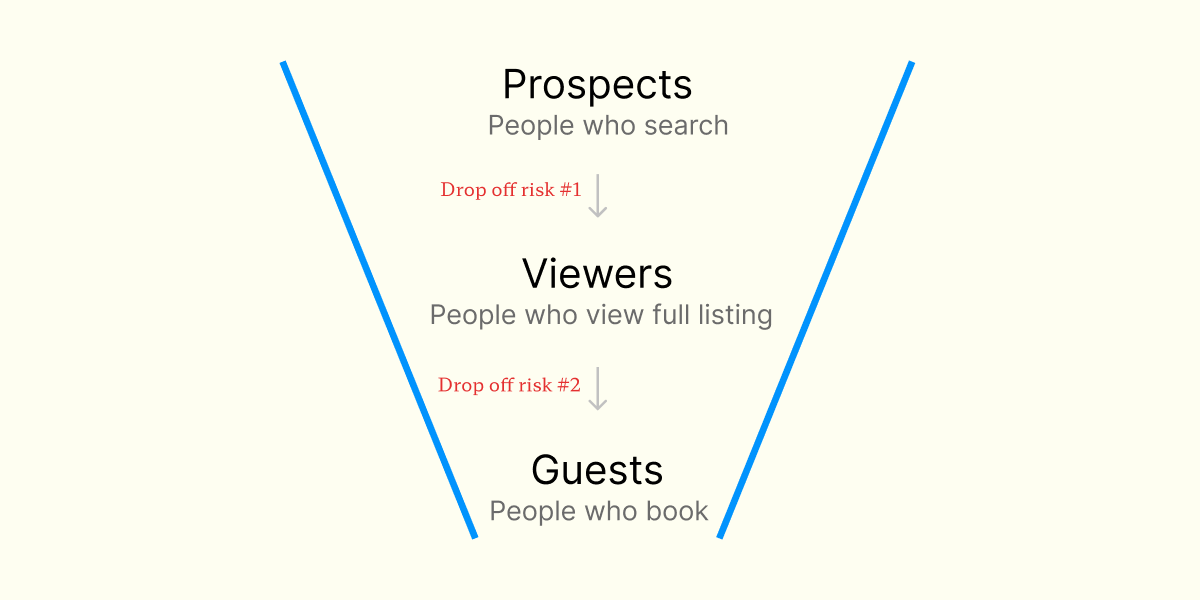 Reviews also have a pretty big impact on SEO. Airbnb's search algorithm is likely to give it more weight than most quality signals. Strong reviews will boost your search ranking position.
In case it hasn't clicked for you, the benefits of reviews are two-fold. Reviews have a positive influence on both people and algorithm.
Should we solicit reviews?
I have a few secret moves when it comes to reviews. Here's a small, obvious one.
I'm one of those hosts who aren't at the B&B to meet and greet guests. So I have no idea whether a guest likes social interactions or just wants to be left alone.
This makes actively soliciting reviews a little risky. Most guests are easy going, but one or two might find proactive solicitation annoying enough to leave a less than stellar review.
For this reason I don't proactively ask for a review (except back when I was just starting out).
But, every now and then a guest would reach out to me to communicate something, while leaving a side hint that they loved my B&B.
For example:
Hi. Letting you know that we have checked out. Thanks for letting us stay at your gorgeous house. My daughter loved it.
This guest obviously likes the place and likes to communicate. Soliciting a review in this scenario is essentially risk-free, so I do it.
I never once receive less than perfect rating from a guest like this.
Final words
Reviews are a great feature that benefits hosts tremendously.
You should always strive to leave every guest a review, as it encourages the guest to reciprocate.
Whenever you leave a review, Airbnb notifies the guest. From my observation this nudge is effective in getting you a review. I had fewer reviews from guests when I was less proactive in writing them one in the first place.
This proactivity is even more critical if you're a new host with no or few reviews. You want to get your first reviews as quickly as possible and build up your track record, because prospective guests do look at reviews when choosing their accommodation.
I hope I have shared enough templates, snippets, and rationale to convince you to write thoughtful reviews.
Happy writing!